Academic Search is an executive search firm dedicated to serving higher education institutions and related organizations and is the wholly owned subsidiary of AALI making it the only search firm in the nation with a formal relationship to a premier leadership development program. As its subsidiary, Academic Search provides significant funds each year to AALI so that it can deliver professional development programs to educators who have been nominated by their campuses to enhance their leadership potential. The direct support from Academic Search makes it possible for AALI's programming to be offered at AASCU and CIC member friendly rates. This relationship strengthens the ongoing commitment by Academic Search to leadership development as well as the identification of outstanding candidates for positions.
The American Association of State Colleges and Universities (AASCU) represents more than 400 public colleges, universities and systems. Member institutions share a learning- and teaching-centered culture, a historic commitment to under-served student populations and a dedication to research and creativity that advances their regions' economic progress and community development. AASCU serves as one of AALI's two founding partner organizations and annually co-sponsors the Becoming A Provost Academy and the Executive Leadership Academy.
The Council of Independent Colleges (CIC) is an association of nonprofit independent colleges and universities that has worked since 1956 to support college and university leadership; advance institutional excellence; and enhance public understanding of private higher education's contributions to society. CIC is the major national organization that focuses on providing services to leaders of independent colleges and universities as well as conferences, seminars, and other programs that help institutions to improve the quality of education, administrative and financial performance, and institutional visibility.  CIC serves as one of AALI's two founding partner organizations and annually co-sponsors the Executive Leadership Academy and the Senior Leadership Academy.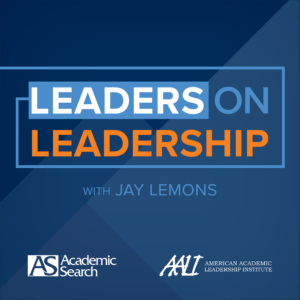 Click to select an episode of the Leaders on Leadership podcast and hear today's higher education leaders share their stories and insights about leadership in the academy. Join host Jay Lemons and his guests for thoughtful conversations and interesting perspectives on leadership.
Leaders on Leadership is brought to you by Academic Search and the American Academic Leadership Institute, who together support colleges and universities during times of transition and through leadership development activities that serve current and future generations of institutional leaders.